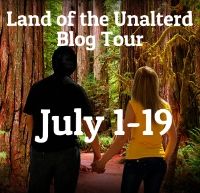 Summary:
Rose comes from the capital of the Confederation of Cities where its citizens live in luxury and the greatest fashion statement of all is being Altered. People change everything about the way they look as often as they do their hairstyle but Rose is different. Her position of privilege has made her an outcast and led her to suspect that something sinister is happening to the citizens and flees the capital along with a past that imprisons her in search of a fresh start in the Land of the Unaltered.

Flynn lives in the Land of the Unaltered and hates the capitol and everything it stands for. So when a spoiled capital girl is assigned to work with him, he wants nothing to do with her and is prepared to make her life miserable. But Flynn was not prepared for someone like Rose. She doesn't fit the mold he expected and finds himself strongly attracted to her. As she continues to surprise and outwit him, they begin to forge a bond that is tested when they discover a secret that could change everything they know about Land of the Unaltered.
Author's Links
Book Links
Interview with Leti Del Mar:
How did you come up with the title?
I loved the concept of remaining unaltered and loved the word. I knew I wanted that word to be in the title of all 3 book in the trilogy. So I played around with it until I came up with
Land of the Unaltered
.
Is there a message in your novel that you want readers to grasp?
Yes. I am a big believer in being comfortable in your own skin and not changing who you are for the sake of fashion or society. Living in Southern California, so many of the people I know have had some sort of plastic surgery, but would have been just as beautiful without it. I think true confidence and inner beauty are linked and I wanted to share this.
How much of the book is realistic?
Although my book is set in a futuristic and dystopian society, much of what my characters feel is realistic. They deal with very real coming of age issues like insecurity, developing your own identity outside of your family, loss and love.
What authors have influenced your life most?
Jane Austen has been an immeasurable influence and I think because of her, my books will always have a strong sense of romance. Agatha Christie has also influence me since I don't just write romance. There is always some sort of mystery or unsolved puzzle in my stories.
What book are you reading now?
I'm reading Summer Lane's
State of Emergency
. It is about the immediate aftermath of an electromagnetic pulse taking out all microchip technology in Los Angeles. As a Angelino myself, I find the story captivating.
What are your current projects?
I am promoting my book, Land of the Unaltered, planning its sequel, Secrets of the Unaltered, and also working on a non-fiction work, How to self-Publish Your Novel in 12 Easy Steps.
Is there anything you find particularly challenging in your writing?
I find revision challenging. I'm never satisfied and always want to go back and make changes. I keep at it until I sick of my own work. It is a big deal when I decide that I've had enough and stop revising.
Do you have any advice for other writers?
Keep writing. This is a marathon and not a sprint so pace yourself and keep on creating.