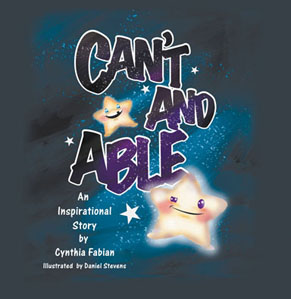 Can't and Able
Author: Cynthia Fabian
Illustrator: Daniel Stevens
Publisher: Strategic Book Publishing
Pages: 28
Summary:
What does it feel like when you just can't do what the other kids, I mean stars, do? Can't kept trying, but he never seemed to shine as brightly as the other stars, and was always teased and bullied by others. Can't feels that he is less than the other stars and just cannot shine. It wasn't until Can't realized he Can, that everything changed for him. Find out how Can't became a hero and ultimately became Can. Able is the star who had it all. Able helps Can't to realize that he can really shine. Connect with Can't, Able, and all the stars that live in their neighborhood and beyond in the star-studded children's book Can't and Able: An Inspirational Story. The colorful artwork by Daniel Stevens creates beauty and fun throughout the universe. And as we all know, the star is the limit!
My Thoughts:
Can't is a star who is always bullied because he can't shine as brightly as the other stars. But when can't becomes a hero he realizes that he CAN.
I think the message in this story is wonderful. Can't is such a horrible 4-letter word. I try to always correct my kids when they say they can't do something and then I tell them to try. When they find out they can do it they feel so proud of themselves. You can do anything you want with a little hard work and belief in yourself. I think that was exactly the point the author was trying to get across in this story.
My daughter really enjoyed the brightly colored illustrations. If you have a kid in your life who thinks that they "can't", then maybe this is the book for them. Let's teach them that they can do whatever they set their little hearts and minds to.
*I was sent a copy of this book in exchange for an honest review.
ADD IT ON GOODREADS
AUTHOR'S WEBSITE
GET A COPY